Aiport Tokushima
The Tokushima Prefectural Center
for Human Rights Affairs
What is Aiport Tokushima?
"Ai" is taken from the Japanese word "to love" and the English word "I", and also from the meaning "to meet" in the word "deai".
It was chosen as the most appropriate slogan for a human rights center form a total of 1,239 entries sent in from across the country.
Main Activities
Human Rights Education, Promotion and Training
Lecutures
Training of human rights specialists
Creation and distribution of materials for education, promotion and training purposes
Teacher dispatch
Creation of posters, poems and songs about human rights
Displays regarding human rights issues
Promotion of human rights via newspaper
Events such as the Human Rights Festival in which anyone can easily participate and learn about human rights in an open atmosphere to help raise awareness of related issues
Provision of Information
Production of a homepage for the center
Production of a newsletter for human rights issues
Provision of various kinds of information
A human rights library with books, DVDs and panels available for rent
>> DVDs can be viewed at the center
Human Rights Consultation
Consultation with a human rights counselor
Every 2nd and 4th Saturday of the month, 10:00-16:00
Consultation with a lawyer
Every 1st and 3rd Friday of the month, 13:00-16:00
By Appointment
Tel. 088-664-3701
※Consultation days may be subject to change
The Tokushima Prefectural Center for Human Rights Affairs
Human rights play an important role in our daily lives.
A society free form prejudice and discrimination in which human rights are property respected can only be achieved when each individual of that society is personaly responsible for thinking about human rights issues and acting accordingly.
Aiport Tokushima is designed to tearch people variety of events in a way that is easy for local residents to utillze, and offer a space for people to learn about human rights and deepen their understanding.
Aiport Tokushima making human rights education accessible to all
A wide range of books, DVDs and other materials are available regarding human rights issue, Manga and picture books are also available.
Library, exhibition and workshop space
Panels, posters and other exhibition materials regarding human rights are on display.
Human Rights Consultation Room
Here you can receive consultation regarding human rights from specialists.
Information
Facility Information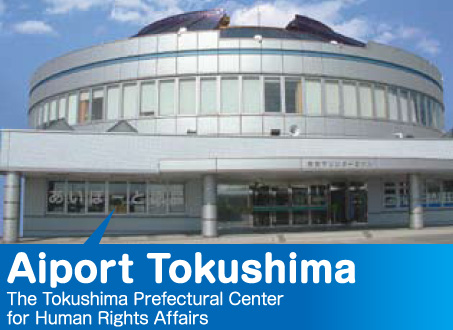 〒770-0873
Tokushima-shi, Higashi okinosu 2-14 Okinosu Marine Terminal Bldg.
Tel. 088-664-3719 088-664-3701
Fax. 088-664-3727 088-664-3712
Homepage www.aiport.jp/
Hours 10:00-18:00
Closed on Mondays, or Tuesdays when Monday is a public holiday; and also during the New Year Holiday period from December 29 to January 3.
Access